Stunning Discovery:Snow Falls In Sahara Dessert For The First Time In 37 years
[huge_it_slider id="1″]
Everyday brings new discovery to the world. The news of snow fall in the Sahara dessert is the new trend and has left lots of people stunned…uhmm..This is quiet interesting, as it is something that have not occured in the last 37 years, actually since 1979.  Sahara  Dessert is known for its dry, suffocating heat  and boring weather. But everything changed when snow shower coated the hills of sand in the dessert.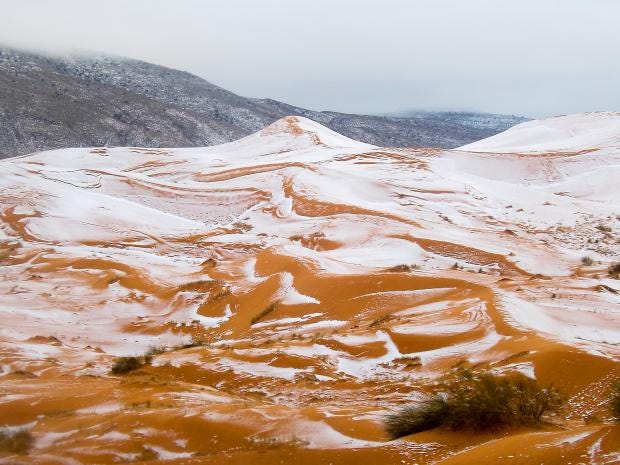 Photographer Karim Bouchetata captured gorgeous images of the red rolling dunes frosted in white.
According to Independent, Karim Bouchetata photographed the fleeting scene on Monday in the small Algerian town of Ain Sefra, which lies in the Atlas Mountains on the northern edge of the desert.
Mr Bouchetata stated that: "Everyone was stunned to see snow falling in the desert, it is such a rare occurrence."It looked amazing as the snow settled on the sand and made a great set of photos. The photographer added that the snow stayed for about 24 hours before melting.
Ain Sefra, founded in 1881,  It is part of western Algeria in the east and border with Morocco.   The region's average high temperature is more than 37°C winter, and has population of about 35,000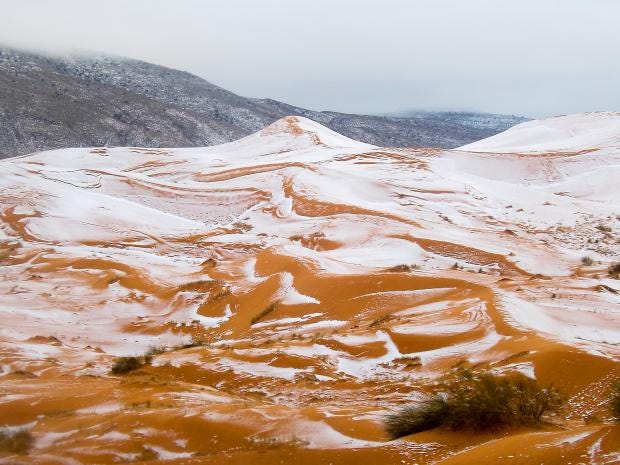 A weather map analysis from Monday shows that temperatures in the area were roughly 10 to 15 degrees colder than normal when the snow occurred.