92 Lives Lost As Russian Military Plane Crashed
Russian President, Vladimir Putin have declared tomorrow a day of mourning in Russia after Russia's defense ministry announced  that   A Russian military passenger plane (Tupolev Tu-154) carrying  army/ military  choir singers, musicians, dancers, journalists including famed Alexandrov Ensemble to a new year concert at a military base in Syria crashed into the Black Sea, soon after taking off from the resort of Sochi, killing all 92 people on board.
 Further investigations are  ongoing  to identify the cause of the crash. Report said that Russian officials were ruling out terrorism as the cause.  Maj. Gen. Igor Konashenkov, a Russian military spokesman, told reporters that no one survived. "The area of the crash site has been established. No survivors have been spotted," he said.
[huge_it_slider id="1″]
The Tu-154 plane is a Soviet-built, three-engine airliner designed in the late 1960s. Konashenkov said the jet, a Tupolev 154 passenger liner built in 1983 had 6,689 hours of flight, last underwent repairs in December 29, 2014, and had since been fully serviced including recent scheduled maintenance done  on September 2016. The ministry identified the pilot as Roman Volkov, who was described as a "first class pilot" with more than 3,000 flying hours.
According to CNN Tass has reported that, according to the Defense Ministry, "all search and rescue services of aviation units on the Southern Military District in Krasnodar and neighboring regions are engaged in aircraft search."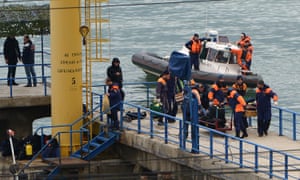 [huge_it_slider id="4″]
Alexandrov Ensemble (Red Army Choir) among the crew aboard the crashed plane